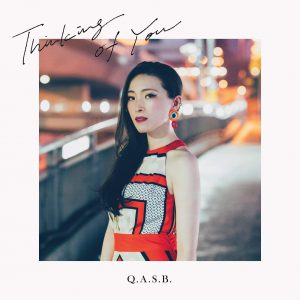 1970年代を中心とした Soul/Funk〜Rare Groove を、その後のダンス・ミュージック・シーンを通過したメンバーによる解釈のもと現代に蘇らせ後世に伝えることを目指した "現行の" レア・グルーヴ・バンド。2005年結成。
RYUHEI THE MAN 氏プロデュースの"The Mexican Part 1&2″ (2012) 、"Never Did I Stop Loving You" (2014) を含め、10枚を超えるの7インチシングル、5枚のアルバムをリリース。
バンド結成11年目となる2016年、Amy A に代わる新たなシンガー a.yu.mi. をメンバーに加え、2017年に"Thinking Of You" "Get Down" "Hold Me" の7インチシングル3タイトルを、2018年には "You're My Star" 7インチシングル、そして満を持して10曲からなるアルバム "Thinking Of You" をリリース(2019年にLP化)。小西康陽、沖野修也(KYOTO JAZZ MASSIVE / KYOTO JAZZ SEXTET)、尾川雄介(universounds) 等から高い評価を得る。また、同アルバムから DJ KAWASAKI により RE-EDIT された "Get Down"、SHO DA SCOTTIE によりREMIX された "Double Decker" をカップリングした7インチが HMV record shop 渋谷5周年を記念して発売され話題となる。
2020年はオーサカ=モノレールの中田亮氏をフィーチャーした "The Jet Leg"等続々と7インチシングルをリリースし、2021年5枚目のアルバムとなる"Candy Dream"をリリース。
---
"Q.A.S.B." is a Japanese funk/soul group formed in Tokyo in June 2005.
Influenced by James Brown, the early works of Kool & The Gang, and Sly & The Family Stone etc., Q.A.S.B. presents both styles of music; danceable funky tunes and more mellow laid-back numbers. This original style, making them special from any other artists, will bring you back to the early 70's with an evergreen taste. With Amy A as their initial vocalist, works of their first stage reaches 16 seven-inch vinyl records and 5 albums, including tunes produced by DJ RYUHEI THE MAN: "The Mexican Part 1 & 2" (2012) and "Never Did I Stop Loving You" (2014). Marking the 11th anniversary of the band, a.yu.mi. joined as their new vocalist in 2016, followed by 4 seven-inch vinyl releases in 2017 and 2018. Their 4th album "Thinking of You" (2018, 2019) has been highly evaluated by Yasuharu Konishi (Pizzicato Five), Shuya Okino (KYOTO JAZZ MASSIVE/ KYOTO JAZZ SEXTET), Yusuke Ogawa (universounds). Some selections from the album were republished as remix versions: "Get Down" by DJ KAWASAKI, and "Double Decker" by SHO DA SCOTTIE, congratulating 5th anniversary of HMV record shop Shibuya.
In 2020, we released seven-inch vinyl such as "The Jet Leg" featuring Ryo Nakata of Osaka Monaurail, and released 5th album "Candy Dream" in 2021.